Next 15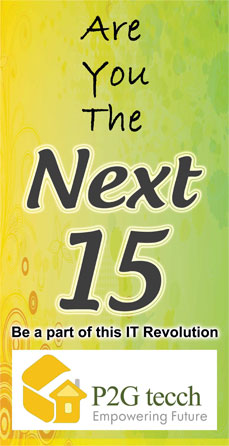 Next 15 is a training concept developed by P2G tecch, it is highly ambitious & innovative specialist networking training program. Next 15 will look out for the best 15 students who can really fit into the expert level networking training. 15 talents from different parts of the country & globe will be trained by one of the best computer networking multi-vendor trainer Mr. Hari Prasanna who has given excellent results with marvellous track record, his students are working in every part of this planet performing absolutely well with remarkable salary package.

Next 15 will mould them to company's requirement, in the last few years Hari has produced more than 130+ CCIE's. During this program students are provided with multi-vendor knowledge. Next 15 targets students from any educational background. They have all seen the change with sheer disbelief in their eyes that their career has been taken to different level and are now one of the top technocrats around the globe.

Put your efforts to gain knowledge and experience, achieve your certification and accelerate your career. Expert level networking certifications are accepted worldwide as the most prestigious and highly respected IT certification in the industry.

Network Engineers holding an active Cisco CCIE certification with knowledge of other vendors like Juniper, Checkpoint, Palo Alto, Fortinet, SonicFirewall are recognized for their expert network engineering skills. The networking expert community has established a reputation of leading the networking industry in deep technical networking knowledge and are deployed into the most technically challenging network assignments.

Today, CCIE certification holders represent less than 3% of all certified Cisco professionals and less than 1% of the networking professionals worldwide. Be part of Next 15 program and become an expert to join the bandwagon.


Next 15 the change is here….. next big thing in IT, give a flying start to your career. Be a part of this IT Revolution!